What is the digital shelf and why is it important?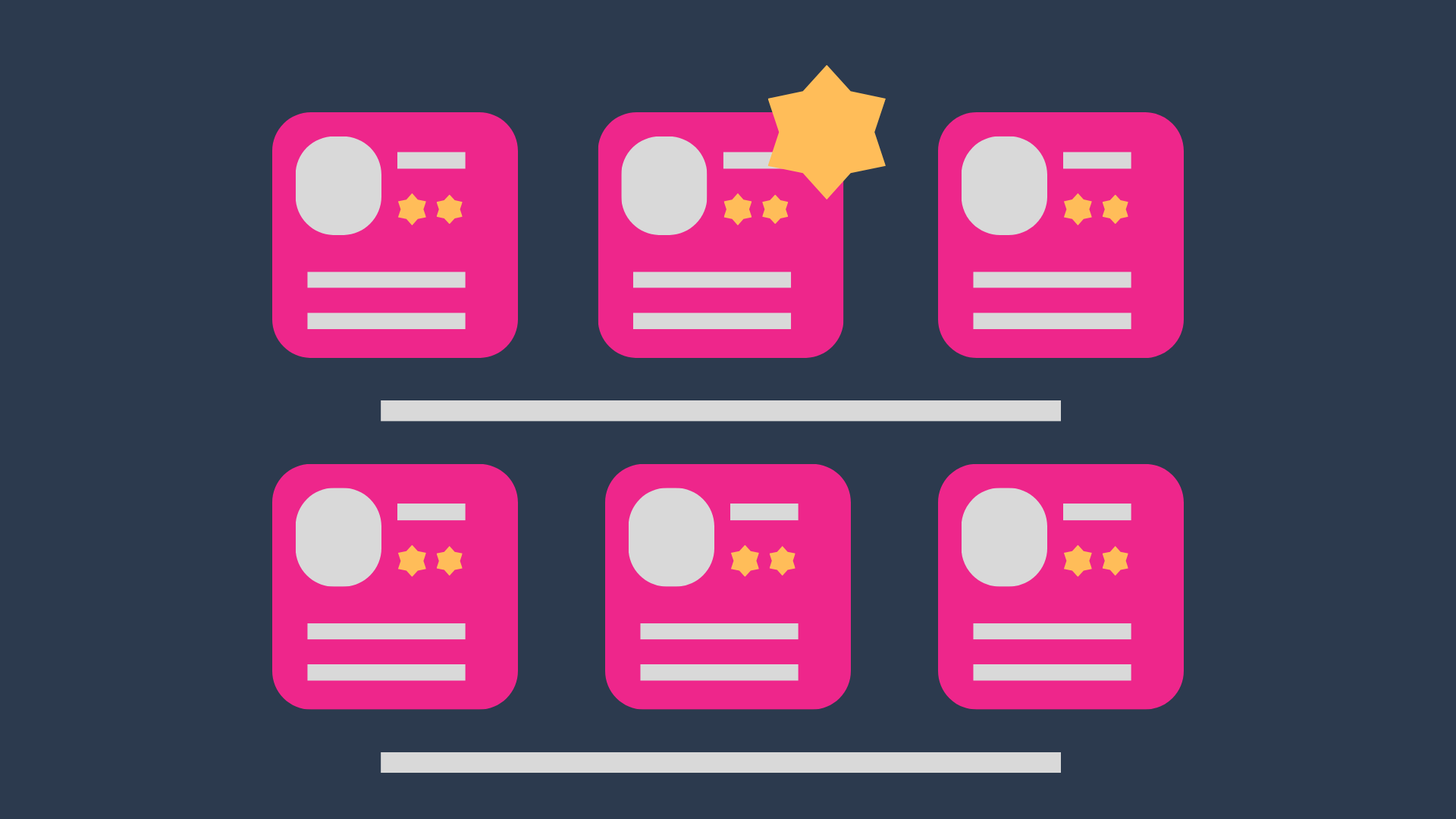 August 9, 2023
What is the digital shelf and why is it important??
We are all familiar with a physical shop shelf and how it works.
You go into a store, you navigate to the right aisle, you browse for a product that meets your need, you pick up a product from the shelf, you take it to the cashier to pay and you leave.
In this process we are using physical touchpoints to help us choose the right product. From store signage and layout, all the way to price labels and product packaging.
It is a journey that has been made seamless by generations of retail development.
The digital shelf is the digital representation of this physical offline shopping process. It is the all the digital touchpoints and experiences we use to find, research, compare and choose products online.
In this article we will look at:
Why is the digital shelf important?
Two key factors have made the digital shelf an essential part of the shopping experience.
The first is the growth of eCommerce. Ecommerce in the UK is projected to grow annually at 7.7% between 2023 and 2027, with market penetration hitting 86.3% in 2027.  Solely offline shoppers are becoming an increasingly small minority.
The second factor is the offline shopping journey and online shopping journey have blurred.
This means a digital shelf presence has become vital. Customers increasingly use both digital and physical touchpoints before making a purchasing decision.
As a result, the digital shelf is where customers are not just finding, researching and comparing your products for online purchases – but for offline purchases as well.
Where do we find the Digital Shelf
With a physical shelf it is often easy to know it's location. It is physically located in all the shops that stock your product.
However, there is a big difference between the physical shelf and the digital shelf. The digital shelf is much more fluid.
The digital shelf is not limited by the physical constraints of a shop. It can be almost any size (on the biggest marketplaces it can include thousands of products) and located almost anywhere online.
Common digital shelf locations to consider include:
Your eCommerce website
Websites of distributors
Online marketplaces (e.g., Amazon, eBay or Booking.com)
Social media with integrated shopping (e.g., TikTok or Instagram)
Metasearch engines (e.g. Skyscanner)
The look of these digital 'shelves' change at an immense speed. Not just day-to-day, but from click-to-click. And, they can be tailored to the individual shopper.
Some of these digital shelves you might 'own' and be able to control. For example your own eCommerce website. However, when digital shelves are owned and managed by other parties, you'll find yourself competing to stand out against possibly hundreds of other rival products.
What are the different parts of the digital shelf?
When we think of the digital shelf we can break it down into several parts.
Taking this approach is useful for two reasons. It allows us to think about what parts of the digital shelf you can impact and how you impact it.
Your ability to make changes will depend on if the digital shelf is on a platform you control (such as your own website). Or, on a platform out of your control (such as an online marketplace or an eRetailer).
So, breaking down the digital shelf into separate parts lets you prioritise the changes that can be made to drive the greatest amount of revenue.
For a full description of how to approach digital shelf optimisation review our guide on how to win on the digital shelf.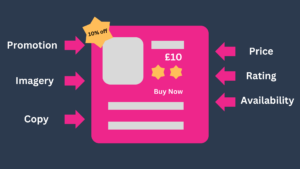 Visibility
This is how easy your products are to find on the digital shelf.
This might mean appearing top of a search engine results page (SERP) on an online marketplace (e.g. Amazon) or in the feed of a shopper browsing social media (e.g. TikTok).
The key is to be visible though. If you are not visible online, it is the equivalent of being in the storeroom of a physical shop. Shoppers won't purchase your product if they are unable to find it.
There are lots of tactics to make your product more visible online – from organic search engine optimisation, retail media to display advertising.
Product details
This is the product titles and descriptions used to describe what your product is. These should be designed to include keywords that you target market use when searching for your product. As well as written in a way clearly explains your product and its benefits.
A good product description brings more traffic to your product through being well-optimised for search engines. And, also improves conversion by making your product more appealing to shoppers.
Product images
Your product images includes the main pack shot you use for your products. As well as any supporting images.
As most consumers will shop visually – strong imagery is a great way to convey important information. Including what your product it is, what the quantity is and what are the product benefits.
Your pack shot is especially important. It is one of the first things a shopper will notice. A well optimised online pack shot has been shown to give a sales uplift of up-to 24%.
Price and promotion
Online shoppers are able to quickly hop between multiple sites to compare prices and promotions. This means developing a coherent pricing strategy across all online touchpoints is essential.
Digital shelf analytic tools can also allow you to track competitive pricing and promotions. This will let you make clear decisions over whether to price match or to hold your ground based on competitor activity.
Ratings and reviews
Shoppers are heavily influenced by the purchasing behaviours of other. So having product reviews will increase your conversion rate online.
This is influenced by both the quality and quantity of reviews. Overall, 4.75 – 4.99 stars is the optimal product rating for conversion, with products in this band having the highest conversion rates.
Product mix
When selling online it is important to have the right mix of products at the right price. Here you might find a different product mix works better than instore. For example, bulky or heavy items that shoppers don't wish to carry back from the shops, or items that need to be bought regularly and can be delivered on repeat (e.g., toilet roll).
Product availability
An essential part of performance on the digital shelf is product availability– going out of stock can severely impact your visibility online. It'll take considerable time to recover your previous levels of visibility even when back in-stock.
How to track the digital shelf
Once you understand the key parts that make up the digital shelf. The next step is to understand how to monitor these different digital shelf elements.
This let's you asses the state of the digital shelf, create benchmarks and develop a measurable optimisation plan.
The first step to monitoring the digital shelf is to carry out a digital shelf audit. These can be carried out either manually or using a digital shelf analytics tool.
For small portfolios of products a manual audit of the digital shelf audits might make the most sense – it is cheap and gives you an extremely detailed review of your product library. However, for large portfolios of products this process might become too time intensive.
In these situations, there are an increasingly large number of digital shelf trackers available to help you monitor the digital shelf.
Popular digital shelf analytic tools and trackers include:
Dataweave
Ecommerce Insights by NIQ Brandbank
SiteLucent
Edge by Ascential
Profitero
With so many options for monitoring the digital shelf it can be difficult to know where to start. We always recommend choosing an approach that puts you in the best position to make actionable changes.
For more information check out our article on digital shelf analytics and how to track the digital shelf – here we breakdown how to get started with monitoring your digital shelf, as well as the differences between a manual and an automated approach.
How to manage your digital shelf content?
So, you've started monitoring your digital shelf – fantastic! However, you might quickly realise that keeping your content consistent and accurate can be an enormous task. 
For small companies it is possible to store your content on a SharePoint or even local drives – providing you use a well organised filing system.
However, as you grow and the number of stakeholders and users increase these systems can start to lead to inconsistencies  in the digital shelf emerging.
This is where Product Information Systems (PIMs) and Digital Asset Management Systems (DAMs) come into play.
These are tools that store your product information in one central location. They provide one source of truth that all users can draw upon to ensure product content is accurate and up-to-date.
The most powerful of these systems will not only as a store for your product information. But, also syndicate (share) your content out to distributors and online marketplaces where your product is sold.
Popular PIM and DAM systems include:
Bynder
inriver
Salisfy
ProductsUp
Brandbank
When choosing the right PIM/DAM it is important to consider that some retailers only use specific PIM/DAM partners.
The Richmond Marketing Consultancy works with companies that need to optimise their online digital shelf. We can use our experience to help you every step-of-the-way from an initial digital shelf audit to actioning digital shelf optimisations and upskilling your marketing teams. If you need help with your digital shelf please get in touch